It may be heresy in this context to confess, but I don't much like giving or even attending dinner parties. Too many things can go wrong, even beyond the possibility of a disaster in the kitchen sabotaging the meal. A couple whose marriage is on the rocks will choose this occasion to rehearse their resentments. A neglected spouse will get soused and say nasty things about broadcast journalism despite knowing that the hostess holds an executive position with one of the networks. A bore will launch an interminable rant, the burden of which is that free agency has killed baseball the way rock 'n roll killed jazz and therefore American culture sucks and it's your fault. A provocateur of either sex will try to get a rise out of the group by declaring, with regard to the attacks of September 11, that we had it coming. Or someone will call someone else a racist, a fascist, or a Republican, take your pick. Or perhaps a perfectly nice stranger will have brought a manuscript of poems hoping that I will recommend it for publication, blurb it, and write a letter of recommendation to the Guggenheim Foundation. I speak from experience. These things happen.

Yet I know that the truth is more complicated and that I could only have written the paragraph above in the cranky mood I'm currently in because my old trusty Toyota died on a country road this morning and I waited two hours for AAA to arrive and it's eleven degrees today with snow flurries and brisk winds and I have two deadlines to meet and there's no food in the house. That's where I'm coming from, and it isn't a pretty place. On the other hand I find that two jiggers of Knob Creek bourbon, a spoonful of Chambord liqueur, and a lot of ice will make the deadlines seem much more manageable, so in approved post-modernist fashion let me avail myself of such remedy – an improvement on the standard Manhattan (whiskey and sweet vermouth) — and start this piece all over, beginning with the beginning. Ah yes, that's better.

It was a lovely September evening a month after Stacey and I were married by a judge before two witnesses in upstate New York, Stacey quoting Sammy Cahn ("Time after time / I tell myself that I'm / so lucky to be loving you") and I opting for Johnny Mercer ("For you are the lover I have waited for, / the mate that fate had me created for"). It was a half hour after a reading at The New School in New York City featuring no fewer than twenty contributors to The Best American Poetry 2005 as well as that book's guest editor (Paul Muldoon) and series editor yours truly. The event attracted a big crowd and went well. We even had a surprise for the audience, a last-minute addition to the program: John Ashbery, my favorite poet and many people's candidate for the foremost poet in the land. The poets read their work with charm and conviction and amazingly no one exceeded his or her allotted time at the lectern.

To celebrate we went to the Café Loup, for an impromptu dinner party for all the evening's participants. Stacey was there; John Ashbery was there with David Kermani; lots of other poets were there including Mark Bibbins, and we were sipping Tanqueray martinis (straight up, with olives) and feeling fine. I was seated next to John Ashbery, so I was even happier with my lot in life, and I must have been bragging about Stacey's culinary prowess, because John — a gastronome of the highest order, who, when he lived in Paris as a young man, thought nothing of crossing the city to sample some obscure restaurant's house specialty — grew animated. I had a sudden inspiration. Would John and David come to dinner? Done!

In the time-honored male manner I elected to leave the planning entirely to my wife. Stacey loves spending time with John and David, and the prospect of planning a princely menu excited her. Still, it didn't take long for an element of dread to surface. Although she loves to cook, and I think she's exceptional, Stacey would describe herself as merely a "decent home cook," meaning she can get a healthy simple dinner on the table mid-week in under an hour. But when it comes to entertaining, she is seriously out of practice. Ever since moving to New York City in 1998 she has curtailed her entertaining because of the limits imposed by a small apartment with a tiny kitchen and no dishwasher.

We live on the top floor of a six-floor walkup, eighty steps from ground level, far too many for John, now 78, to climb. So where could we hold the dinner? I thought of Mark Bibbins, who lives with his tech-whiz companion Brian in a spacious Chelsea apartment with a wraparound porch. Like Stacey, Mark loves to cook and is very good at it, and he, too, is very fond of John and David. Mark and Brian agreed to collaborate with us, and after a flurry of e-mails with all parties, we settled on a Sunday night in November, the 13th to be exact, and we were in business. That was two months from now. I entered the information in my calendar and did my best to forget about it, which was just as well: Stacey proved herself capable of obsessing enough for two.

About a week later, Stacey proposed the broad outlines of a menu to Mark. The centerpiece would be her specialty, a dish she has prepared often enough so that it's practically a guaranteed success: braised lamb shanks. Unfortunately, Mark replied with the news that he does not eat red meat. As far as he could tell, Stacey took this news in stride, assuring him that an alternative would be easy to figure out. In reality, however, panic set in, but panic of the productive kind, fueled by adrenaline, or so it seemed to this observer.

A frenzy of menu-planning and recipe-testing ensued. It was as if Stacey were Carême cooking for the Romanovs in St. Petersburg. She consulted the many cookbooks and cooking magazines she owns. She visited on-line recipe sources. She phoned friends. Just as at any given moment during a movie, or while attending a reading, I might be spied counting iambs on my fingers, or scribbling furiously in my notebook, Stacey would jot down menu options at odd moments. I found scraps of paper with cooking notes and shopping lists throughout our tiny apartment; on the desk, the kitchen cabinet, the coffee table. When she confessed her anxieties, I spoke my own lines as if veteran sit-com writers had scripted them for me: "Relax, sweetie. Anything you make will be wonderful."

Stacey's requirements were few but non-negotiable. First, she wanted the meal to have a decidedly French accent. She had told John about mastering several recipes from Patricia Wells' first edition of her Food Lovers Guide to Paris; he was especially attentive to her description of a hazelnut praline soufflé she recalled eating in 1983 at a restaurant in the 18th arrondissement. She imagined her cooking inducing a nostalgic swoon: "This reminds me of the daube Frank O'Hara and I had at a cute bistro on the Rue du Bac in 1960."

Second, she wanted to be able to prepare the main dish in advance so that once the guests arrived, she wouldn't be distracted by the goings on in Mark's open kitchen. Cooking while others watch makes her nervous. She didn't want anyone peering over her shoulder while she tried to rescue a separating hollandaise or repair – gasp! – overcooked vegetables.

Finally, she wanted the meal to be elegant but casual, and seemingly effortless, as if she regularly whipped up such meals at a moment's notice. Ideally, the entire evening would unfold as a marvel of spontaneity, with one glorious dish after another marching from kitchen to table. "Dinner for six, dear? No sweat. I'll pull something together."

My theory of a good dinner party is that much depends on the quality of the opening cocktails, and so I volunteered to take responsibility for this part of the meal. What to serve? Martinis were reliable but unimaginative; daiquiris were delicious, but I associate them with summer. My solution was to serve Bellinis. It's not a difficult drink to make. You make it by adding peach brandy to good but inexpensive non-vintage champagne. It's even better if you use white peach puree in addition to the brandy, and I knew that Stacey had frozen some that she had made in August using peaches from the farmers' market in Ithaca, where we spend much of the summer. What's more I had recently discovered Mathilde Liqueur Peches, a superb peach liqueur imported from France. The combination of these ingredients was sure to put everyone in a mood the opposite of which was mine when I sat down to write this piece a few hours ago.

Stacey's theory of successful entertaining, much less liquid, is that it takes only one spectacular dish to impress the guests and leave the impression of complete kitchen mastery. If the dish is served at the beginning of the meal, it will prejudice the guests in favor of everything that follows. If it comes at the end, the diners will forget any preceding mediocrity. Everything else can be plain, as long as it tastes OK. One horrid dish will spoil everything.

The consultations with Mark continued. They agreed that duck in some fashion might make a good entrée. The only problem was that Stacey had never cooked duck. It wasn't part of her cooking lexicon. Nevertheless, she gave it a shot. A vendor at the Wednesday farmers' market on Chambers Street, near her office in lower Manhattan, sells free-range fowl of all kinds. One day, as I mounted the stairs to our apartment I heard a shrill alarm that grew louder with each flight until I realized it was coming from our home. Wisps of smoke curled out from under the front door. And there on a stepladder stood Stacey, screwdriver in hand, trying to disable the alarm. The shriveled carcass of the duck sat on the counter.

The duck breasts were a different story. They were delicious and they accommodated a variety of sauces. But they failed in both the prepare-in-advance and elegant-but-casual categories. Stacey does great things with chicken or seafood and rice dishes — Paella, Jambalaya — but these lacked the specifically French character she wanted the meal to have. Bouillabaisse? More suited to summer, she felt. Simple roast chicken? "Hasn't that become a cliché?" Game hens with soy-citrus glaze, chicken breasts over wild mushrooms, whole fish baked in a salt-crust: for one reason or another: Stacey rejected all these and others.

I noticed that Stacey, when cooking, had taken to wearing a smock-like garment with ruffles and heart-shaped pockets, the kind you would see plump women wearing in old Life Magazine advertisements for Campbell's Soup. When I asked her about it she explained that its provenance was the Sixth Avenue flea market and that it gave her confidence. "I feel like Mary Tyler Moore's Laura Petrie to Dick Van Dyke's Rob. The wife cooking to impress her husband's boss."

A different analogy occurred to me. Immersed as I was in writing an essay on Hitchcock for American Heritage magazine, I must ungallantly admit that I thought of Mrs. Oxley in Frenzy, who creates exotic but scary French dishes often involving an animal's innards, which her longsuffering husband, the Chief Inspector, pretends to enjoy while longing for roast beef and Yorkshire pudding.

In truth Stacey's nervousness was understandable. You see, Ashbery is the one person I know well whom I consider a genius. As a poet I owe much to his example, and as a journalist too: I reviewed books for "Newsweek" while John was the art critic there. When I launched The Best American Poetry in 1988 with the idea that a different guest editor, himself or herself a distinguished poet, would choose the contents each year, I asked John to serve as the guest editor of the inaugural volume. Not only did he select the poems and contribute a terrific introduction, but he also helped me create the template for the structure of subsequent volumes in the series.

Knowing the depth of my dedication to John, Stacey – herself a long-time admirer of John's work – has come up with imaginative ways for us to celebrate our friendship with him. When Stacey and I went to Paris in 1998, we photographed the various apartment houses where John lived during his ten-year Paris sojourn, and on our return we made an album and gave it to him. This was Stacey's idea. And on her birthday in 2003 we drove from Ithaca to Sodus, the rural village near Rochester where John grew up, and photographed the still-remaining "Ashbery Farms" sign near the corner of Maple Avenue and Lake Road. Later, John and David told us that they themselves made a pilgrimage to Sodus as a result of the photos we sent to them.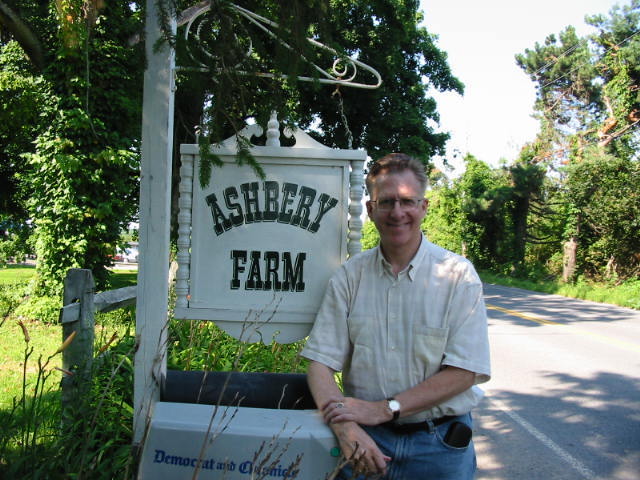 There is something about John that inspires people to want to do things for him. Perhaps it is just our gratitude for his presence – our love of his poems – or perhaps this is part of his personal charm, along with his reticence and his sometimes enigmatic and frequently brilliant off-the-cuff aphorisms. He has said that he feels poems are "going on all the time in my head and I occasionally snip off a length." On spotting a difficult friend: "There goes B., wearing her resentments like an egret." On going his own way: "Very often people don't listen to you when you talk to them. It's only when you talk to yourself that they prick up their ears."

And both Stacey and I are tremendously fond of David, John's companion for more than three decades. David is devoted to John in the customary sense of that phrase but with a scholar's thoroughness and integrity. As a young librarian at Columbia, David prepared a comprehensive bibliography of John's works, which was published in 1976. It's an exemplary volume, and I have no doubt that the Ashbery Resource Center, which David has established, will prove a treasure trove for future scholars. Stacey thinks of David as a role model of sorts and has learned much from him about being the partner of a public figure. He is also the kind of person one would want to be seated beside at a formal dinner, an excellent conversationalist with an insatiable curiosity and an offbeat sense of humor. His opinion mattered to both of us.

At dinner one evening (seared tuna steaks with wasabi sauce, confit of sweet red and green pepper, and wild rice), Stacey announced that she had made a decision. With the aplomb of William Powell fingering the culprit in the climactic dinner scene in "The Thin Man," she declared that she had figured out what to serve: Coq au vin. She ticked off the reasons. She had made it before, and while it's not her favorite dish, she knew she could pull it off with a really good wine and "cippoline onions instead of those tiny boiling onions that take forever to peel." If Mark would agree to allow a tiny bit of bacon for flavoring, there you had it. Coq au vin! It may seem anticlimactic to you, dear reader, but it made us happy.
This, then, was the menu:
Bellinis
Cheese Gougere
Endive Spears with Marjoram Pesto

* * *
Mark's Crab Cakes with Corn Salsa
Coq Au Vin
Roasted New Potatoes
Homemade Crusty Rolls
Mark's Green Salad with Sherry Vinaigrette
Nougat Glace with Raspberry Sauce
With entrée settled, Stacey proceeded to perfect the three dishes she was counting on to establish her reputation: the gougere, the homemade rolls, and the nougat glace. She had made these dishes many times in her pre-New York City days, but, like any smart cook, wanted to refresh her skills. She liked the gougere — simple, bite-sized savory puff pastries, served warm — because they're delicious, pretty, and seem to require an element of magic. The homemade rolls were an obvious choice. Stacey is an experienced baker, who used to work on a cooperative farm in Williamstown, Massachusetts; while we were courting, she baked a braided Challah, froze it and shipped it to me so that it would arrive ready to eat. As for the nougat glace, it's rarely seen on restaurant menus in the U. S. though it's fairly common in France. It's a sensual delight, a soft frozen confection studded with slivered almonds and pistachios that sits in a pool of raspberry puree. Whoever invented it – and there are several apocryphal tales — was inspired by the nougat candy comprising egg whites, almonds, pistachios, and lavender honey that has its origins in the Provençal town of Montelimar. It's Stacey's favorite dessert. Years earlier she had gone to great lengths to master it. In her kitchen she tried to duplicate the epiphany of the nougat glace she had tasted in Le Chanceliere during a long-ago bicycle trip through the Loire Valley. After many mishaps, she achieved success when Gourmet magazine published a recipe from the very restaurant where the dessert was served to her.

While Stacey went in pursuit of menu perfection, I thought little of the event until it was almost upon us. But I had an ace up my sleeve. Ever since last summer I have been making mixed-media collages and watercolor drawings, many of them in standard postcard size. There are high quality art supply stores where I live, and the practice of making these art works – while perhaps a crime drama airs on TV or Sinatra sings on FM radio – relaxes me. I have never done anything of the sort before, and I am sure I would have dropped the habit if the first or second or even the fifth person to whom I showed the collages had made a belittling remark or laughed derisively. To my amazement and pleasure everyone seems to like the works, including John, who had earned his living as an art critic from his Paris days when he reviewed museum and gallery exhibitions for the International Herald Tribune.

A day before the blessed event I made something for everyone. For Brian, I juxtaposed a newspaper photo of Marilyn Monroe with crossed-out lines of handwritten poetry and stripes of white and yellow on a crossword puzzle background. For David, I painted a luminous red moon and other things on a photograph of the New York City skyline on the night of the blackout of 1965, a November night like this one. (It was in fact the night before John Ashbery landed in New York after living in France for the better part of the previous ten years.) For John, who gave the title Your Name Here to a recent collection of his poems, I glued a photo of the Italian mannerist painter Francisco Parmigianino – whose Self-Portrait in a Convex Mirror inspired Ashbery's most famous single poem – to a fake American Express card made out to "your name here." For Mark, who had distributed handsome silver matchbooks with Sky Lounge in black lettering on them when his book of that title was published, I made the matchbook the centerpiece of a collage. And for Stacey, I made an homage to Greta Garbo and bought a CD consisting of dance music by Harold Arlen, Richard Rodgers, and Cole Porter, which we would play that evening during the dinner. When the meal began, the collages in envelopes with the diners' names on them would be on each person's plate like an eccentric form of place cards.
At four thirty in the afternoon it occurred to me that I had not planned a toast. I like a challenge, and instead of a conventional toast, I decided to write one in the form of a sestina. I allocated one hour to the task, and this is what I came up with:
Dinner Party Sestina
The caller demanded to speak to John.
"He isn't here." "Who's this?" "This is David."
"David?" "Yes, but not that David."
"Oh." "I can see you're an easy mark."
"Forgive me." "OK, but don't tell Brian."
"Brian left to buy champagne," said Stacey.
The gang gathered around Stacey
the way poets at a reading gather around John.
"He isn't here." "Who's this?" "This is O'Brien
and you're Winston Smith." "Quit it, David,"
whose penchant for one-liners and unremark-
able puns was noted by all. And in walked David
himself, looking less like Michelangelo's David
each year, but happy now that he married Stacey.
"It seems that Cupid's arrow hit the mark," Mark.
said, not unself-referentially. Moments passed. "Hi, John,"
said a lovesick sheriff searching for a walnut, but Brian
set him straight. "If he's John, I'm David."
"And if I'm John, he's David," said David,
looking up from reading Elizabeth David's
Provencal cookbook on loan from Brian,
who had previously borrowed it from Stacey.
"Has anyone brought a poem – I mean besides John?"
"And the twayne shall not converge," said Mark,
a mystifying but nonetheless satisfying remark.
Everyone wondered how David
would respond. But David said nothing. John
took out an old Firesign Theater record to show David
who said, "not now," and raised a toast to Stacey,
author of the meal chez Mark and Brian.
As brain is an anagram of Brian,
(I told Mark)
"yes cat" is an anagram of Stacey,
and there is a diva in every David,
though not every David
can be as avid as the day he first met John
on the page, in a sestina in which Popeye
cavorting with his crew stood for John
and David, Mark, Brian, Stacey, and the other David.
It was thrilling to write it, and to write it so swiftly, but when the moment came I uncharacteristically lost the nerve to read it. Instead I gave or e-mailed a copy to each person present on the following day.

The evening was beautiful, unseasonably warm, and when I arrived, sestina folded in jacket pocket, Stacey and Mark were in the kitchen, and the most wonderful aroma of wine and caramelized onion wafted in the air. Stacey was piping pate au choux onto a baking sheet for the gougere, Mark was misting the tablecloth with water to smooth the wrinkles, and Brian was checking the sound system and loading his playlist. Once Mark finished setting the table, I placed an envelope with collage inside on each plate, like an eccentric place card. And then we waited nervously for John and David to show up. We started on the Bellinis. I sampled the endive spears with marjoram pesto. Magnificent. Then the doorbell rang and there were David and John with two bottles of champagne (Piper Heidsieck, brut). We ate the gougere on the terrace. Rather than sauté the crab cakes as he usually does, Mark tossed them into a deep fryer, and rued the decision when muffled popping sounds issued from the kitchen. But the diners were oblivious to the noise and the crab cakes made a marvelous appetizer. Stacey worried that her coq au vin was too dry, especially the breasts, but it was popular with our guests. I had a leg and a thigh, which are the parts of the chicken that benefit most from being cooked slowly with an ample quantity of wine, mushrooms and onions, black pepper and garlic. I loved it — I love bistro cooking in general — and happily had seconds.

I remember little else of the occasion except that Mark took photographs with the tiniest digital camera I have ever seen and Stacey's dessert was a heavenly highlight and John and Mark watch the Food Network as does Stacey, and all have opinions about the relative talents of Rachel Ray, Every Day Italian, and Emeril. Stacey talked about our recent trip to Poland, and David talked about trips he and John have made to far-flung places, and Brian turned out to be a music aficionado, and we talked about the dance music on the CD we brought and played, and John said that he had met Balanchine and he also commented admiringly on Emma McCagg's portrait of Mark hanging on his foyer wall. Mark reminds me that while sipping cocktails and eating hors d'oeuvres on the terrace, John spotted "two of my neighbors in the act of sharing some horizontal affection. We've lived in the building for three years and never witnessed such a show. Maybe they knew he was coming." A profile on John had appeared a few weeks earlier in The New Yorker, and when we talked about that, John said there was only one thing that concerned him and that was that his landlord would read the article and try to evict him for maintaining a residence in Hudson, NY. Everyone liked his or her present, and when the time came to clink glasses, John toasted Stacey and me "for getting married so we could have this celebration." We couldn't have asked for anything more.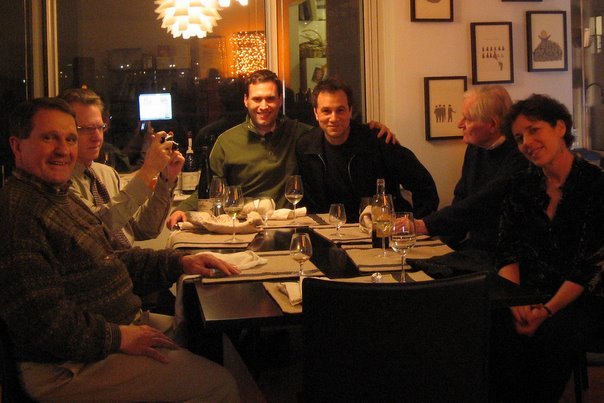 How to Make Nougat Glace
By Stacey Lehman

The poet Jim Cummins is joining us for dinner tonight and I've decided to make this dessert again because it is always a success, can be made a day or two in advance, and lends itself to many variations. It's basically a soft ice-cream; the Italian version is called a Semifreddo and there are many different recipes for it, some with whole eggs, others with just yolks, and this version which uses only the whites. I like it because the end result is a closer in color to nougat candy that inspired its creation (the crème de cassis gives it a faint pink blush). And I also like beating the egg-whites in the beautiful copper mixing bowl I recently found at the local thrift shop for $10.

The tricky part of the glace is the Italian Meringue which is more complicated to pull off than other kinds of meringue, such as the kind used to top a lemon meringue pie. It requires using a candy thermometer and boiling sugar and water until it reaches the "soft ball" stage, at which point it is added to the beaten egg whites. This is easy if one has a standing mixer; those using a hand mixer will have to watch the sugar syrup while simultaneously beating the whites. In either case, when it is time to add to the sugar to the whites, keep it away from the spinning beaters or you will have a web of hardened sugar candy mucking up your mixer. Instead, let the syrup drizzle down the side of the mixing bowl while you continue to beat the whites. You will be rewarded with stiff shiny peaks of sweet egg whites which hold the air even after you've folded in the whipped cream, nuts and other add-ins. Instead of folding in the liquor at the end, I beat it with the cream for more uniform distribution.

Nougat Glacè au Coulis de Framboise La Chanceliere
(adapted from Gourmet Magazine, October, 1986)
For the sauce
2 pints raspberries, picked over (or frozen raspberries, no sugar, defrosted)
1 cup sugar plus additional to taste if desired
fresh lemon juice to taste
For the ice cream
1 cup sugar
4 large egg whites at room temperature
1 ½ cups well chilled heavy cream
1/3 cup crème de cassis
½ cup natural pistachio nuts blanched, oven-dried, and coarsely chopped
½ cup glacè cherries, coarsely chopped
2 oz. Extra dark fine chocolate, coarsely

Make the sauce: In a food processor puree the raspberries with 1 cup of the sugar and the lemon juice and puree the mixture with additional sugar if desired. Strain the sauce through a fine sieve into a bowl. Refrigerate.

Make the glacè: In a heavy saucepan combine the sugar and 6 tablespoons water and cook the mixture over moderate heat, stirring and washing down any sugar crystals clinging to the side with a brush dipped in cold water, until the sugar is dissolved.

Boil the mixture over moderately high heat, undisturbed, until a candy thermometer registers 245 F and remove the pan from the heat. While the syrup is boiling, in the large bowl of an electric mixer beat the egg whites at medium speed until they hold stiff peaks. With the motor running pour the syrup in a slow steady stream onto the whites and beat the meringue for 2 to 3 minutes more or until it holds stiff glossy peaks. Reduce the speed to low and beat the meringue for 8-10 minutes more, or until it is cooled to room temperature. In a chilled bowl with the electric mixer beat the cream until it holds soft peaks and fold it into the meringue with the liqueur, the pistachio nuts, and the slivered almonds until it is combined well.

Line a terrine, 11 ¼ by 4 ½ by 2 ½ inches with plastic wrap, leaving a 3-inch overhand on each long side, spoon the ice-cream mixture into the terrine, smoothing the top, and cover it with the overhang. Freeze the mixture for at least 6 hours or overnight. Unmold by inverting onto a serving platter and removing the plastic wrap. Slice. On each plate, pour ¼ cup of the raspberry sauce, and on it arrange 2 slices of the ice cream. Garnish.
---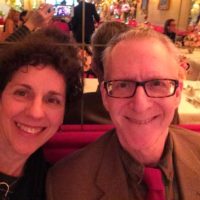 David Lehman has taught in the New School's MFA Writing Program since its inception in 1996. His new book of poetry is "Poems in the Manner Of," coming from Scribner in March 2017.
Stacey Lehman is the managing editor of the Best American Poetry blog and website. Her writing about poetry, food, and film has appeared in Saveur, The Los Angeles Times, The Michigan Quarterly Review, on The Academy of American Poets website, and elsewhere. She is the Poet Laureate of the New York City Greenmarket and teaches "Food Narratives" at the New School.