Nothing's open here at 2 a.m.
except the Waffle House on the edge of town.
Cigarette smoke wrapped in fried-egg-smell smacks me
in the face as I pull open the glass door.

I take a booth and order sweet ice tea.
Maybe that's her getting out of that blue Mustang
with a cherub's smile and a short black skirt,
but no, there's someone else with her.

It's twenty past, but I guess I'll stay.
We'll laugh one day when we tell our kids
that we met in the middle of the night
at a Waffle House next to the interstate.

In the Tru-Luv chatroom, I just knew that MegHam1986
was the girl for me, the way you know the earth
is round, that Jesus saves, and that two-dollar bills
will one day be worth more than two dollars, so you keep them.
---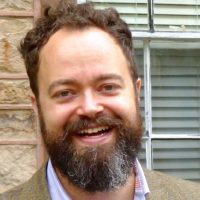 Donovan McAbee's poems have appeared or are forthcoming in
Five Points
,
Tar River Poetry
,
The Christian Century
, and a variety of other journals. He lives in Nashville, Tennessee with his wife and newborn son and works as Associate Professor of Religion and the Arts at Belmont University. You can also find more of Donovan at
http://donovanmcabee.com/
featured image via Eater.