I told my friend
the reason I don't go to therapy:
I would lie to any therapist and adjust my
problems according to what
I think the therapist would want to hear

He said that means
I'm crazy and really need to go to therapy

I wouldn't argue with this point

I give a name to a new kind of therapy:
Silence of Night

The sound a plastic bag makes
slapping against my thigh
as I walk home from the bodega

When I get home, therapy becomes the rosy ceiling after
I turn on my Himalayan salt lamp

Did you know Freud
never said the Irish were impervious to
psychoanalysis? Rather something
claimed again and again
without attribution
and finally made its way into Martin Scorsese's film
The Departed
And now everyone thinks it's true
But it's not

Come on,
you've been there

At 4 am
when I couldn't sleep I took an online quiz
and the result is
I'm a demon
of the night

I read the same Elizabeth Bishop poems
until I can hold the almanac
or taste dark brown tears
or feel the ancient wallpaper or see a gesture
I love

People walk around with names like Mike, Dave, Elliot, Jose, Keith, and it's fine, it's totally fine

I am an American
I shit like the Pope

It's fine

I rebound ideas
off silence
I talk to it and there's no
response, which in this way is its
own kind of response

Silence is a message
I listen
---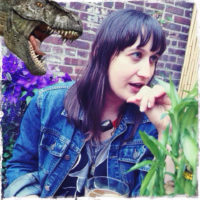 Amy Lawless is the author of two books of poems including
My Dead
(Octopus Books). Her third poetry collection
Broadax
is forthcoming from Octopus Books this summer. A chapbook
A Woman Alone
is just out from Sixth Finch. With Chris Cheney she is the author of the hybrid book
I Cry: The Desire to Be Rejected
from Pioneer Works Press' Groundworks Series (2016). Her poems have recently or are forthcoming in
jubilat
,
Reality Beach
,
The Volta
,
Washington Square Review
,
Best American Poetry 2013
, and the
Academy of American Poets' Poem-a-Day: 365 Poems for Every Occasion
, and the
Brooklyn Poets Anthology
(Brooklyn Arts Press). She received a poetry fellowship from the New York Foundation for the Arts in 2011. She lives in Brooklyn.
feature image via Ryan Rosa on Flickr.