have I eaten so much sugar
as in Cuba: profligate blizzard thrown

over churros warm from their oil bath, now wrapped
safe as babies in brown paper blankets. Glamorous

Old Hollywood starlet sparkle of sweet diamonds
spackled over the fruit (guava, papaya, words thick

on the tongue, as if language were edible). Pulped from the cane
by a machine for the thirsty to quaff over crushed ice. Deluge-poured

into coffee. Hurricane-stirred with rum and mint. The sugar
shades of buildings like sucked candies. The syrup of sun. Never

so much sweetness as here where even the smoke
of the santera's cigar drifts a soft cloud over a shell bracelet

with which she will bless me. Her children bringing
Valentine's Day candy before the ceremony begins; her face

as she speaks to the gods. Only now do I understand
what sugar is, dodging old cars in the street: my broken Spanish

and my new friends' patience so words still bridge silence, the picture
in my phone of my boyfriend I look at so I can pretend

he's still near. To be in love
while in Cuba with someone who waits in New York

is better than all sweetness: the longing that deepens the sugar,
the sugar that is knowing a future embrace.
---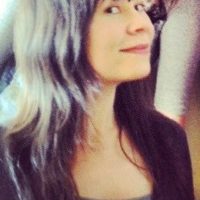 Kate Angus is the author of So Late to the Party (Negative Capability Press, 2016), the Creative Writing Advisor for the Mayapple Center for Arts and Humanities at Sarah Lawrence College and a founding editor of Augury Books. Her poetry and nonfiction have appeared in The Atlantic online, The Washington Post, The Awl, Verse Daily, Best New Poets 2010, Best New Poets 2014, Gulf Coast, Subtropics, The Academy of American Poets' "Poem a Day" and Tin House's "Open Bar." More information about Kate can be found at www.kateangus.org.
featured image via Wikipedia.