If I slept like an egg
(unbroken), my eyes opening

crack the shell. This morning,
a cloud formation

takes the shape of Great Britain; elsewhere,
a garage floods, recedes,

and America stains concrete.
This is a compulsion

called cartocacoethes
where one sees maps

everywhere. I found the website,
and now left-over breakfast toast

is Cuba, where I want to go. I have a tendency
to make every happenstance

important. The light's not green?
Take a right at the corner and notice

how those willow branches
are wet hair cascading

down–this means
we should go swimming. Think

how many people
there are in this world. I am so lucky.

This whole planet:
you could have been anywhere.
---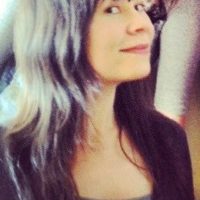 Kate Angus is the author of
So Late to the Party
(Negative Capability Press, 2016), the Creative Writing Advisor for the Mayapple Center for Arts and Humanities at Sarah Lawrence College and a founding editor of Augury Books. Her poetry and nonfiction have appeared in
The Atlantic
online,
The Washington Post
,
The Awl
,
Verse Daily
,
Best New Poets 2010
,
Best New Poets 2014
,
Gulf Coast
,
Subtropics
,
The Academy of American Poets'
"Poem a Day" and
Tin House's
"Open Bar." More information about Kate can be found at
www.kateangus.org
.
featured image via
cesarastudillo on Flickr
.