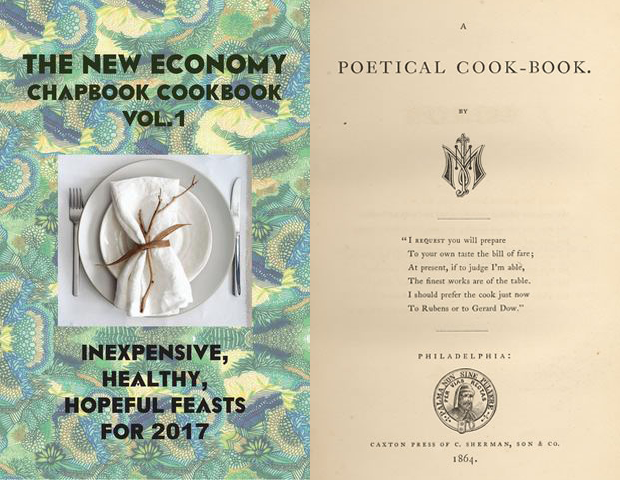 A cookbook is a historical and political document.  Think about it. Pick up any cookbook and you will learn as much about the economic forces of its time as you would from any history book. What do the recipes tell you about the demographics of its preferred audience? What is their class? Their social standing? How accessible are the ingredients and challenging the preparation? I've often wondered why definitive histories of a period tend to leave out the goings on in the kitchen.  If we don't know what people were eating and how their food was prepared during this war or that upheaval, we're missing a big piece of the pie, so to speak. Browse the cookbook shelves of a bookstore and you learn about current economic and social trends; visit the shelves of your local library and you'll be amazed by once popular diet trends that are now obsolete.
A sub-genre of cookbooks that can teach us about the time in which they were written is the "charity" cookbook compiled by women and sold in order to raise money for a cause.  The first such cookbook was A Poetical Cookbook, written over 150 years ago for the 1864 Sanitary Fair, to support those wounded, widowed or orphaned by the Civil War. The practice of selling cookbooks to raise money has thrived ever since.
Jan Longone, curator of American culinary history at the University of Michigan Hatcher Library points out that no matter what the specific cause for which charity cookbook raised funds, the underlying purposes began as "women helping themselves, helping other women to help themselves, helping still other women help themselves and finally blossomed into women taking on the role of helping to solve all societies ills. All the time learning how to organize, to write, to publish, sell ads to sell cookbooks to run a business and to network." In other words, the making of a lowly cookbook helped women develop life-saving skills.
Fast forward to today's digital and social-media world. What does a cookbook for a cause look like in this environment? One recent example, and one to which I contributed, is the New Economy Chapbook Cookbook Volume I: Inexpensive Healthful Hopeful Eats for 2017.  
Here's how it got started: Last November, poet Gabrielle Calvocoressi posted on Facebook: "Pals! I'm making an adventure of these slightly tight economic times. What are some meals you love to make that stretch across a few days? If you place a recipe and a little bit about the meal here I thought I'd copy them (with your name of course!), put them together, and maybe make a little cookbook chapbook we can "sell" for $2 (or more if folks wants) donation receipts to an organization that fights food scarcity. I bet we could raise a bunch for folks in need. I'm thinking we could call it The New Economy: A Poets' Cookbook."
The response was overwhelming and enthusiastic as one "share" led to another. Instead of women gathering in kitchens and living rooms to type and collate, today we have laptops connected virtually; instead of mimeograph machines and staplers, there's print-on-demand.  The New Economy Cookbook Chapbook is a digital cookbook filled with recipes by home cooks who know how to write and how to stretch a dollar to feed friends and families. Plus, unlike "charity" cookbooks of the past, which tend to be local, this one boasts recipes representing culinary traditions from around the world. It is large! It contains multitudes!
Plans are in the works to print and sell hard copies of The New Economy Chapbook Cookbook. Meanwhile, you can download a copy for your personal use. Even better, explore ways that you can print copies and sell them to raise money for a favorite organization, preferably one with a mission to end food scarcity and insecurity.
What's for dinner? I'm starting with Kaveh Akbar's Vegan Fesenjan, an Iranian stew made with walnuts and tofu and served over rice. Salâmati!
feature image via Stacey Harwood-Lehman