We all live in loops, nightmaring and wilding our own narratives. It is no high-fantasy, but we invent our sparks.
Yesterday, I walked the loop of the Central Park Reservoir. I entered from the west side. This December, is another stubborn fall. Nothing lets.

Nothing lets go: the reds and golds and greens.
[And why should it?]
Bask, more. Rest, more. We all need to self care. We can see the gold fleeing.
Look.
It is deceiving. We often deceive ourselves with the mischievous, with pleasure, with time and with taste. We like what we like. The tongue knows its way of selection, what it finds charming. It is a kind of craving only the sweet drums down.
The sweet.
The sweet sort of steps out from behind, something hard to notice.
The margins of our appetite are a leap from the tongue. One danger dims another. One danger suffices. One betrayal forks it all up to chance.
---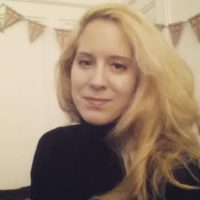 Leah Umansky's
The Barbarous Century
is forthcoming from Eyewear Publishing in 2018. She is also the author of the dystopian-themed
Straight Away the Emptied World
(Kattywompus Press, 2016), the Mad-Men inspired chapbook,
Don Dreams and I Dream
(Kattywompus Press, 2014), and the full length,
Domestic Uncertainties
(BlazeVOX, 2012). Her poems have appeared or are forthcoming in
POETRY, Boston Review, The Journal,
and
Thrush Poetry Journal
. She is a graduate of the MFA Program in Poetry at Sarah Lawrence College and teaches middle and high school English in New York City. More at
www.LeahUmansky.com
.
featured image via Tartelette on Flickr.