What is more important than food, other than shelter? On the whole grand scheme of things, sex isn't even important. Traveling, now at the Pacific Ocean, in Montara in Northern California, I'm considering what I want to eat tonight. At the ocean in the San Francisco Bay Area was where I first found clarity all those years ago, clarity of mind and body. So, today, I go to the ocean, walk on the sand, listen to the tides, for clarity.
Should I invite a friend and go to a restaurant down the street, or cook a hearty meal that will heal me and finish the writing? Heal my body and soul. Whatever I eat should correct my nutritional deficiencies, if any; alleviate pains, make me, for the moment, as happy as possible. All this, food should do, nourish the body and soul.  I buy mushrooms, two types, maitake and crimini, thinking of making a mushroom soup with rice, onions and garlic. One of those rice soups that mother makes that would heal anything. If shitake were available, I would've bought it, shitake being of the most potent mushrooms with a stellar reputation for healing and boosting the immune system.
Before eating or making a meal, I try to think, how do I want to heal myself?  If I'm at a restaurant and have little control, what foods will do the least amount of damage in terms of free radicals?  If you are your own chef, it's always easier. You know your body, know what you can and cannot eat. You spend your life learning about the healing foods, and staying away from the harmful ones.
I've cooked all my life, from about the age of ten or younger, first helping my mother cook. Cooking for me is like improvisation. Like making music, composing, like jazz. Putting ingredients together to make something healthy and whole, and medicinally healing. Like painting—you know what you want, you have a vision, and you go for the flavors.
Being transplanted first as a refugee from the war, and then moving so many times in my lifetime, from one continent to the next, I've had to learn by trial and error all the pitfalls, getting sick or staying healthy, and I've had to do lots of research and reading about what I can or cannot eat. For instance, Asians typically don't have the enzymes to digest, for example, alcohol or glutinous foods, or we face the consequences.
Living in Buenos Aires, I started to invent my own recipes for bread, as I couldn't find what I wanted in the grocery stores. For instance, there, I make my own banana bread:   using a whole banana, with ground brown rice flour, ground whole wheat, ground sunflower seeds, ground flax seeds, fennel seeds, sesame seeds, with sunflower oil, a bit of water, a bit of baking soda, a bit of lemon juice.  Mix, and let it all rise on an oiled skillet . . . I also make other types of breads that are a mix of ground brown rice flour and whole wheat . . . such as onion bread, garlic bread, leek garlic bread, etc. The list is endless.
Sometimes, living in other faraway lands, I dream of the wonderful cuisine I ate while living and traveling in Asia, Vietnam, Singapore, Thailand, Japan, etc., and try to recreate from memory the dishes, the flavors, the succulent tastes that will always exist in my mind's eye, my tongue's memory.
---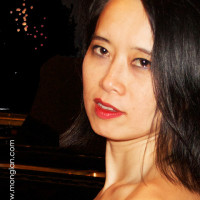 Internationally known multi-artist, poet, writer, painter, photographer, multi-instrumentalist, composer, singer, dancer and teacher of the Argentine tango, Mộng-Lan left her native Vietnam on the last day of the evacuation of Saigon. Winner of a Pushcart Prize, the Juniper Prize, the Great Lakes Colleges Association's New Writers Awards for Poetry, she is the author of eight books and chapbooks, the most recent of which is One Thousand Minds Brimming. Other books include Song of the Cicadas; Why is the Edge Always Windy?, Tango, Tangoing: Poems & Art; Tango, Tangueando: Poemas & Dibujos (the bilingual Spanish-English edition); Love Poem to Tofu & Other Poems (poetry & calligraphic art, chapbook); Love Poem to Ginger & Other Poems: poetry & paintings (chapbook); and Force of the Heart: Tango, Art. Mong-Lan's poetry has been nationally and internationally anthologized to include being in Best American Poetry; The Pushcart Book of Poetry: Best Poems from 30 Years of the Pushcart Prize; Asian American Poetry: the Next Generation; Language for a New Century: Contemporary Poetry from the Middle East, Asia, and Beyond (Norton); and has appeared in leading American literary journals. A Stegner Fellow at Stanford University and a Fulbright Scholar in Vietnam, she received her Master of Fine Arts from the University of Arizona. Her most recent poetry & jazz piano album, Dreaming Orchid: Poetry & Jazz Piano was just released. Visit: http://www.monglan.com.
featured image via Scary Mommy.