. . . but the promise of a moment
of spices luxurious uncontainable
how will i remember your embrace?
how will i remember your trembling?

how will i remember your presence around me
all-enveloping?

i only need to taste you slowly daily

origins rich as sand

your powers multifaceted gingerly i savor
your ingenuity
what are you?
mysterious complex luscious dark

as if behind velvet curtains closed doors

satiny as the Sahara as your turmeric

breathless as ever you make me

in the spices of your delirium

turmeric coriander fenugreek fennel
ginger cloves garlic curry leaves
peppers chilies mustard

endless varieties of you
seamless steamy concoctions

fragrant



as the years are long
as the years terse


that unfurls centuries thousands of years of knowledge

traditions glowing of temples robes flowing orange

rich dark past love
of desire of uncountable kisses
or kisses missed

---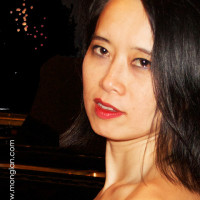 Internationally known multi-artist, poet, writer, painter, photographer, multi-instrumentalist, composer, singer, dancer and teacher of the Argentine tango, Mộng-Lan left her native Vietnam on the last day of the evacuation of Saigon. Winner of a Pushcart Prize, the Juniper Prize, the Great Lakes Colleges Association's New Writers Awards for Poetry, she is the author of eight books and chapbooks, the most recent of which is
One Thousand Minds Brimming
. Other books include
Song of the Cicadas; Why is the Edge Always Windy?, Tango, Tangoing: Poems & Art; Tango, Tangueando: Poemas & Dibujos (the bilingual Spanish-English edition); Love Poem to Tofu & Other Poems
(poetry & calligraphic art, chapbook);
Love Poem to Ginger & Other Poems: poetry & paintings
(chapbook); and
Force of the Heart: Tango, Art
. Mong-Lan's poetry has been nationally and internationally anthologized to include being in
Best American Poetry; The Pushcart Book of Poetry: Best Poems from 30 Years of the Pushcart Prize; Asian American Poetry: the Next Generation; Language for a New Century: Contemporary Poetry from the Middle East, Asia, and Beyond
(Norton); and has appeared in leading American literary journals. A Stegner Fellow at Stanford University and a Fulbright Scholar in Vietnam, she received her Master of Fine Arts from the University of Arizona. Her most recent poetry & jazz piano album,
Dreaming Orchid: Poetry & Jazz Piano
was just released. Visit:
http://www.monglan.com
feature image via Cilantro Cooks.