Destroying and Making


You like to tear down tent, to fold up dewy tarp,
to kneel into mattress and listen to hiss exhale through
plastic mouth. I like to resist eating to burn the fat as
fuel before the free bananas, free water, free
postcards from the conservation people, or the water
station, that PVC pipe spraying water and all the
cyclists reaching, stopping to eat. You like to make
good time, to arrive midday, to showers, to Wi-Fi, to
post mascot selfies, to picnic under a shrubby tree,
the shade of today's ride. I spread our towel on
woodchips and grass to sit. I like to make up stories
about this rider or that family pair, to imagine their
world, why they utter the words they do, the kind of
car they drive, where they're from and why they think
they're from there. As I watch them pass me or we
pass them, the unbelievable becomes extraordinary
becomes absurd by the end of the day when I am
only cornfields and muscles, hog lots and sunburn,
road cracks and thirst. I want to sit down to write this
out, to make a record of all their lives, of ours, but first
you push the watermelon toward me, the avocadoes,
the jerky. We feast. I whisper to you between bites the
fabulous creatures we've passed and how rich their
life.

---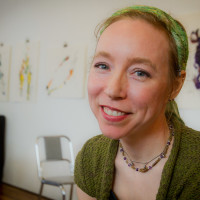 Laura Madeline Wiseman is the author of over twenty books and chapbooks and the editor of Women Write Resistance: Poets Resist Gender Violence (Hyacinth Girl Press). Her recent books are Drink (BlazeVOX Books), Wake (Aldrich Press), Some Fatal Effects of Curiosity and Disobedience (Lavender Ink), and the collaborative book The Hunger of the Cheeky Sisters (Les Femmes Folles) with artist Lauren Rinaldi. Her work has appeared or is forthcoming in Prairie Schooner, Margie, Mid-American Review, The Iowa Review, Calyx, Ploughshares, and Feminist Studies. Currently, she teaches English and Women's and Gender Studies at the University of Nebraska-Lincoln.
feature image via Bicycling.com.