In my mother's kitchen, comida is the cure for wanderlust. It is soul food for the family that gathers patiently around her thighs as she stirs simmering pots of arroz con pollo, carne guisada, or frijoles a la charra. She chants, my love is home, like an incantation that seasons all her dishes with the long sigh of relief. So when I told her I was leaving Texas to attend graduate school in Indiana, it made sense that she would gift me with a starter-set of pots and pans like they were the only tools I would need for the journey across the Midwest. It was as though she predicted the pains of this separation and sought out the most sensible means of tethering our bond—an unseasoned stock pot. Months later, I would sob beside my stove for lack of family and lack of food. As if howling over an empty pot could amplify the echo of my voice, channel it toward the Texan heartland, and deliver it to my mother.
Sopa is a traditional Mexican soup that differs from family to family but typically consists of chicken or beef based broth, tomato sauce, yellow onion, garlic, salt, pepper, and pasta shells—more affectionately referred to as conchas in some variations. My mother's sopa recipe is similar to the aforementioned soup in name only. Her version is a rice-based dish similar to the filling for stuffed bell peppers. In truth, sopa was originally my mother's recipe for stuffed bell peppers, but three children with an aversion to the Scoville scale and the color green quickly eliminated the bell pepper part of the equation. She would hide the remaining vegetables in a bed of orange-tinted rice topped with copious amounts of shredded cheese before serving it with tortilla chips. Add enough cheddar cheese to any dish and it will quickly become my favorite, but my love of sopa stems from early memories of my mother carefully folding carrots, green beans, and corn into mounds of fluffed rice.
The recipe is simple enough to prepare and serve, but by the time of my move I still had not mastered the method for cooking rice. Many a meal in my new apartment began with a menu that called for Mexican rice. I would weigh the grains in a plastic measuring cup, add the appropriate amount of tap water, and heat the mixture to boiling. Preparing rice should have been the easiest technique in my limited depository of Tex-Mex traditions, but every time I lifted the lid of the stock pot a heap of orange sludge stared angrily back at me. No matter how often I attempted to recreate my mother's effortless side dish, it never quite found its way onto a plate in my home. Mexican rice is the staple of any meal my mother serves, but I could not get the stuff to fluff. My failure created a perpetual state of hyper-awareness that led me to frequent the international isle of the local grocery store in hopes of finding a suitable substitute. I stocked up on fideo, pinto beans, corn tortillas, and Rotel before realizing that buying all the correct ingredients would not summon the comida I was craving.
As a child, I would sit at the green-tiled island in my mother's kitchen and watch her prepare dinner. The island is situated in the middle of the kitchen, allowing the stove to function as a centerpiece for the room. I would nestle into the bar stool nearest the stove and quietly catalog the ingredients my mother added to her dishes—yellow onions, cloves of garlic, crushed comino. The trinity, she calls them. This musky aroma still reminds me of my mother and the way her graying bangs graze against her eyelashes as she sprinkles handfuls of herbs and vegetables into a sartén sizzling with excitement. She believes when spirits visit the living we can recognize them by scents. After her grandmother passed away, my mother swore she could smell roses from time to time. When I'm gone, remember me as garlic, onion, and comino, she whispers.
I wanted to honor my mother and her trinity in each dish I prepared in my own kitchen. After years of memorizing her gestures, I believed I could mimic her movements—the way she walks on the tips of her toes toward the spice cabinet while casting her arms in a circular motion that allows her to turn off the tap with one hand and stir a boiling pot with a knife in the other. In my memories, she never consults recipes for reference. I fully expected to inherit this quality from my mother, but was disappointed to discover that my skills were lacking. As her daughter, was I not entitled to this dexterity? This expertise? This lineage? In Indiana, I was a tourist looking to make a permanent home; however, my personal failures in the kitchen began to feel like an othering I was even less prepared to confront. The ingredients in my pantry became fingers pointing me out instead of pointing me home. Instead, my map became the recipe for a meal that was a means of setting me apart in an unfamiliar landscape and a method for coping with the loss of a heritage I had never fully inherited.
Cradled against a cold stove during my first Midwestern winter, I called my mother and was prepared to admit defeat. I was a fraud, a tourist, an outsider. I wanted to confess that I had not been able to master the technique for preparing Mexican rice, and as a result was not able to make sopa. There had been no tomato-tinted grains, no roasted vegetables, no ground beef, no shredded cheese since I left Texas—my mother. Before I finished dialing the number, I was already asking to come home. As she answered the phone, I could hear a feathered smile spread across my mother's face. Rather than allowing me to tuck tail, she listened to my anxiety about displacement before reciting the recipe from memory. She finished by insisting that I was stirring the rice too many times. Leave it alone. The cadence of her voice animated the memories I had stored from childhood and encouraged me to explore the contours of my own kitchen, free from fear of failure or imagined limitations.
With renewed confidence, I edged toward the island in my kitchen and began dicing a medium yellow onion and a handful of garlic cloves while the ground beef steadily defrosted in the microwave. Once the onion and garlic were finely chopped, I added each to the stock pot my mother had insisted I carry with me to my new home. The aroma of caramelized onions and roasted garlic filled the house, and I added the ground beef to balance out the fragrances. As I danced across the kitchen tile, the steps became familiar. I was transported, if only momentarily, to a weeknight in my mother's kitchen. Embolden with a shaky determination, I drained the browned meat, removed the mixture from the pot, and left a bit of grease in the bottom to brown the rice. ½ a cup of rice. Stir until browned. ¾ of a glass of water. My mother's words echoed in my mind as I measured each portion before adding the meat back into the pot, ½ a bag of mixed vegetables, a spoonful of tomato paste, and assorted spices. I stirred the mixture until it boiled and placed the lid on the pot before abandoning the room to let the rice steam.  Leave it alone, I repeated to myself. Fifteen minutes later, the mixture was thick and ready for the final stir. In the past, I had combined the rice like a curandera trying to conjure an antidote for loneliness. This time my patience was rewarded with rice rising up the sides of my stock pot.
My mother would argue that food unites a family. It draws them together at the table for a brief moment and allows family members to unburden themselves to one another. The dining table in my parent's home is round. It holds five people comfortably—my father, my mother, my brother, my sister, and myself. The table is an unbalanced plate of glass that lies on top of a brass stand which my mother covers with a white sheet as a makeshift tablecloth. Although we have largely outgrown the table, my mother refuses to replace it. It remains a steadfast gathering place. I did not have space for a dining table in my one-bedroom apartment. During the move, I was forced to sequester my coffee table on the balcony for lack of space. So when I finished cooking sopa for the first time, successfully, I stood over the stove with a spoon and ate dinner over the stock pot my mother had the foresight to gift me for this particular journey. She had already decided that if I was going to be anything in Indiana, I was going to be well-fed.
---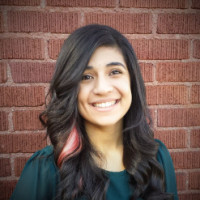 Leslie's poetry has been awarded a National Society of Arts and Letters Chapter Career Award, the David E. Albright Memorial Award, and was chosen by D. A. Powell as the recipient of the 2014 Washington Square Poetry Award. Her poems were also finalists for the 2014 49th Parallel Poetry Award and the 2014 New Letters Poetry Award. She received her MFA from Indiana University and is currently a fellow at the Fine Arts Work Center. Above all, she enjoys lemonade in clear cups and jackalopes.
feature image via Cooking Classy.