No Photosynthesis Occurs
I remember eating white asparagus
at a sidewalk café
in the shadow of Cologne Cathedral
on an amiable day in June.
This seasonal ivory treat,
topped with sun-colored hollandaise sauce,
tastes best in the company of friends,
with glasses of pale German wine.
Recipe: To cultivate white asparagus,
bury the shoots in dirt as they grow,
allow no exposure to sunlight.
Use this same process to produce
sterile, non-permeable minds.
---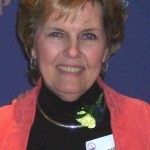 Patricia Williams, professor emerita, University of Wisconsin – Stevens Point, taught art and design for 35 years. Art, design, poetry and creative prose, she feels, are natural partners, their work being the creative examination of life and living. Her poetry is published or forthcoming in online and print journals and anthologies in the U.S. and U.K. including Camel Saloon, Lake City Lights, Poetry Quarterly, Stoneboat, Your Daily Poem, Fox Cry, Red Booth, Third Wednesday, Negative Capability Press Anthology, Midwest Prairie Review among others, and was nominated for a 2014 Best of the Net Award.