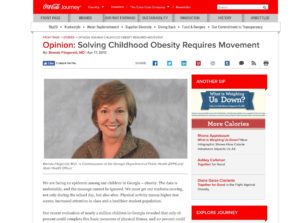 Using Coca-Cola's money to solve obesity….
When she was health commissioner of Georgia, the state with one of the highest rates of child obesity, Dr. Brenda Fitzgerald faced two enormous challenges: How to get children to slim down and how to pay for it.

Her answer to the first was Power Up for 30, a program pushing schools to give children 30 minutes more exercise each day, part of a statewide initiative called Georgia Shape. The answer to the second was Coca-Cola, the soft drink company and philanthropic powerhouse, which has paid for almost the entire Power Up program.
Read on at The New York Times.