The frozen crab legs
and artichoke dip
and french fries.

Endless chardonnay
on the porch at dusk
and a cigar

and my step mom sneaking off
to call her daughter,
who she never speaks about.

The pool, unused and warm,
the sound of frogs calling out around the yard
and the ocean, a few blocks away, also making its call.


In the morning the drive to the liquor store
for more wine and my dad listening
to baseball scores on the radio.

Nothing to talk about
except for the weather
and what we might want for dinner.
---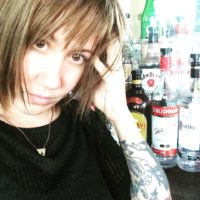 Keri Smith moved from Florida to New York to pursue her MFA in Poetry from the New School. At night she works in various bars in Brooklyn and during the day reads and works for Hanging Loose Press. She finds to time to do literally everything.
featured image via
eHow
.