The sun is blood orange
Our planet burning toward a new
age of extinction An impossible
attempt at rhyme Evolution
shapes acceptable solutions, not
optimal ones, says a scientist
whose life's work is an argument
against reality A train that's not
a train, so much as
a description created by sensory
systems to inform us about
the fitness consequences
of our actions–a brain's best
guess at what the world is like
A story A system
of corruption Illusion
of control A shared nightmare
we each experience on our own
The bridge from which we all
jump
---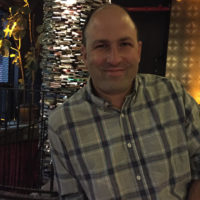 Justin Marks' books are, 
You're Going to Miss Me When You're Bored
, (Barrelhouse Books, 2014) and 
A Million in Prizes
 (New Issues, 2009). He is a co-founder of 
Birds, LLC
, an independent poetry press, and lives in Queens, NY with his wife and their son and daughter. For more, go to 
http://justinmarks.net/.