I decided to claim more space
But I chose the opposite
What are the words I would go to: hunger// longing// love
When you feel drawn to something you should.
Whatever your terrible is is up to you.
The question is how you lead.
I lead myself to distress; I lead myself to happiness.
This is the history of our times.
I claw my way to the surface.
I get a hold of this world with my teeth
& wolf down what I thirst for.
How do I take the I out of here?
(why should I take the I out?)

*

I am always hungry
I am always thinking of my next meal
Is it the New Yorker in me?
Is it the preemie in me?
Is it just the want?

*

We all have our oddities.
I am always trying to be practical, logical, rational,
but it doesn't always add up.
There is so much of my life that I am forever holding under the light.
What falls below the seam?
What falls outside of this poem?

*

I want to put the happy in.
I want to put the hard world in.
I want to say this is a ballad, and so it is.
Let's enter it differently.
Any mammal feeds a hunger
Any heart needs oxygen.
---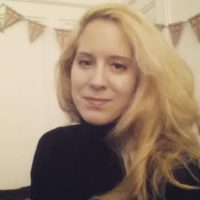 Leah Umansky's
The Barbarous Century
is forthcoming from Eyewear Publishing in 2018. She is also the author of the dystopian-themed
Straight Away the Emptied World
(Kattywompus Press, 2016), the Mad-Men inspired chapbook,
Don Dreams and I Dream
(Kattywompus Press, 2014), and the full length,
Domestic Uncertainties
(BlazeVOX, 2012). Her poems have appeared or are forthcoming in
POETRY, Boston Review, The Journal,
and
Thrush Poetry Journal
. She is a graduate of the MFA Program in Poetry at Sarah Lawrence College and teaches middle and high school English in New York City. More at
www.LeahUmansky.com
.
featured image via Steve Minor on Flickr.