The month of May brings us a poem of the month as well as a poet of the month—enjoy The Feast, a poem in four parts, one bite at a time.
---
4. Winter

In my animal half of my centaur,
in my fox-light after my scent,
I dream toward my sea
where dwells at your center
the perfect riddle
I love to answer
with your expanse.

Mockingbird, fire—

What lives in the nautilus—

Twice unfathomed.

---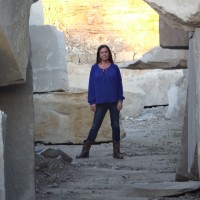 Catherine Bowman is the award-winning author of 1-8OO-HOT-RIBS, Rock Farm, Notarikon, The Plath Cabinet, and most recently Can I Finish, Please? She also edited Word of Mouth: Poems featured on NPR'sAll Things Considered. Her poems have appeared inThe New Yorker, Ploughshares, The Paris Review, The LA Times and Best American Poetry among other journals. She lives on a farm and teaches literature, writing, and poetry at Indiana University.​
feature image via Wikimedia Commons.