The month of May brings us a poem of the month as well as a poet of the month—enjoy The Feast, a poem in four parts, one bite at a time.
---
3. South Texas Fall

95 in the shade—
Late afternoon,
swimming through
the Frio river.

Cold cold river—

He's gone.

He's gone.

Took off on a cross-stitch
of light, his jeweled tarmac,
his liquid Eucharist,
aromatics of juniper and citrus—
wrapped in light scrolls
and laminate shallows,
down the river he swam,
following a horse.

Giddy up,

pony.

Giddy up.

No one but me here and the armadillos.
Armadillo, this is the season of decay
where sprits rise at dusk and turn
everything into a song inside a song.

Floating on my back, on this day
of the fist ripe grain, I could be
a squash vine or a berry
the devil may or may not like.

And the sky, not the color of a jay feather
but the color of dried corn husk,
if corn husk were blue. Yes, that color.
And, always, the giant Cypress on the bank.

And when we were together,
Cypress tree,

a song

inside

a

song.
---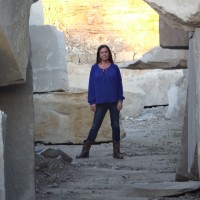 Catherine Bowman is the award-winning author of 1-8OO-HOT-RIBS, Rock Farm, Notarikon, The Plath Cabinet, and most recently Can I Finish, Please? She also edited Word of Mouth: Poems featured on NPR'sAll Things Considered. Her poems have appeared inThe New Yorker, Ploughshares, The Paris Review, The LA Times and Best American Poetry among other journals. She lives on a farm and teaches literature, writing, and poetry at Indiana University.​
feature image via Wikipedia.