CASCABEL
I'm shucking corn husks for grandchildren who are not my own. Today is the day I decide I never want to be a grandmother, or a mother, or a woman who makes tamales. I want fangs sharp as cactus spines, scales the size of railheads, & a tail that vibrates across canyons like gun pellets echoing through jackrabbit skulls. I want a little bone bell that fires warning shots. My inheritance is a patronage of thunder & tumbleweeds, but the rain never comes. I'm given a pair of boot heels instead of foot hills, & the woman who reads my palms predicts labor pains with each click of her cottoned tongue. My cries are more like church bells during a funeral service than a rattlesnake lullaby. So as I shuck tamales pregnant with masa, I beg for stones instead of eggs. Plead for a new prophecy. I pray for a bone rattle to ward away the grandchildren already gathering around my thighs.
---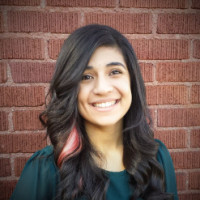 Leslie's poetry has been awarded a National Society of Arts and Letters Chapter Career Award, the David E. Albright Memorial Award, and was chosen by D. A. Powell as the recipient of the 2014 Washington Square Poetry Award. Her poems were also finalists for the 2014 49th Parallel Poetry Award and the 2014 New Letters Poetry Award. She received her MFA from Indiana University and is currently a fellow at the Fine Arts Work Center. Above all, she enjoys lemonade in clear cups and jackalopes.
Feature Image via Simply Appalachian.