Fennel Butter

Our new neighbor,
Former military, ripped,
Plowed into a righteous platter
Of such
Decadence last night, of charred artichokes
And clams, bathed in some sort of fennel broth

(He called it 'fennel butter'),
Then gripped
His hard-earned abs through a threadbare tee, so both
Of us could see, as much
To display his pleasure as to say the joke's
On you – for he's younger,

Neal, and he knows he is, our
New ripped former military neighbor.

---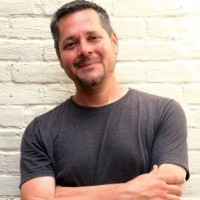 David J. Daniels is the author of Clean (Four Way Books, 2014) winner of the Four Way Books Intro Prize and finalist for the Kate Tufts Discovery Award and the 2015 Lambda Literary Award for Gay Poetry. He is also the author of two chapbooks, Breakfast in the Suburbs(Seven Kitchens Press, 2012) and Indecency (Seven Kitchens Press, 2013), selected by Elena Georgiou as co-winner of the 2012 Robin Becker Chapbook Prize. David teaches composition in the University Writing Program at the University of Denver.
Feature image via Bon Appetit.