Morbier

I forget the expression now, Guillaume,
is it Morning-upon-Night?,
that so richly describes that bifurcating, blue-gray vein
of ash that divides last night's remnant of curds
from this morning's grass-rich haul:

the lower layer redolent of shale, or trace of coral,
from ancient quarries the Holstein herds
in their boredom tend to roam;
while the upper layer brings with it a tell-tale weight,
or whiff, of fresher grain.

---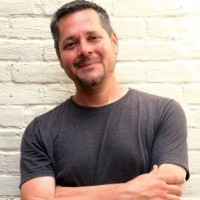 David J. Daniels is the author of Clean (Four Way Books, 2014) winner of the Four Way Books Intro Prize and finalist for the Kate Tufts Discovery Award and the 2015 Lambda Literary Award for Gay Poetry. He is also the author of two chapbooks, Breakfast in the Suburbs(Seven Kitchens Press, 2012) and Indecency (Seven Kitchens Press, 2013), selected by Elena Georgiou as co-winner of the 2012 Robin Becker Chapbook Prize. David teaches composition in the University Writing Program at the University of Denver.
feature image via Guylaine et Sebastien Balé.