All Things Are Tragic When a Mother Watches
There's a black box
where all dreams are encrypted.
Hyper-groomed strangers
strangle each other
fight every fire
werewolves, vampires, politicians
flipping through the sky
charbroiled burgers
over sizzling fries
covered lovers
slamming doors
vanishing
heroes catching
the fallen
women
get murdered
raped
raped and murdered
shoved
in trunks
cops win
stacks of money
bashful incontinence
pills
to cure your reflection
Behind the black box,
a hive of open eyes.
---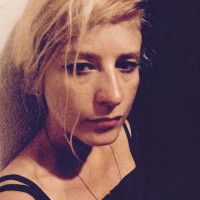 Maggie Wells is the author of Pluto (The Wrath of Dynasty 2011), and co-editor of Emotion Road (Press Body Press 2007). She has been published in Best American Erotic Poems: From 1800 to the Present, The Cadence of Hooves Anthology, Nailed Magazine, Dick Pig Review, and others. She was featured in the Free Lunch mentor series and nominated for a Pushcart Prize in 2008.
Maggie is currently an advice columnist under a pseudonym and has been living in Nashville for the last 16 months. For a good time, you can read her poem, Role Play, here.