DINING WITH THE SKUA SEAGULL 
There is terror in the skies, I say, myself and my manhood rising and falling on the swelling sea.
I can't listen to it anymore, Gwendolyn replies, her beautiful eyes accusing me of all things doomsday.
They're on their way and they are vile, I explain in a whisper, the taste of saltwater in my mouth.
Eat a fish, she says.
I want to, I explain, but I'm so anxious. 
I have no idea what you're talking about, she replies with dismissal.
They're coming, I say again, only this time my words crack in half.
I hear them above us, circling. 
Even this she dismisses with a minimal shrug.
The first one dives, such terrible, terrible screaming.
Feathers rain down as the terror shrieks back up to the sky, only to dive again and again, so much screaming.
I see Gwendolyn's delicate body unable to move under the hot weight of screeching.
Do I have my fish? Yes, I still have it. Deep breath.
My fish is my white flag so I wave it. But they don't want my fish.
They scream so close to my face they are practically inside my throat.
Take my dinner, Skua! I plead. Take it! Take it! Take it!
But my fish remains floating next to me, untouched by the monsters swooping and screaming like fast fire.
My anxiety level is beyond. All oxygen is gone.
Another dive bomb takes me beyond the beyond.
I start to retch.
And retch, bile and this afternoon's sand crabs pouring out across the surface of the dark water. I hear Gwen retching too.
The Skua is arcing back around. I'm sure my impalement is imminent. But he just slurps up my vomit, looks satisfied, and flies away.
My head snaps to the left only to see another Skua slurp the vomit of Gwendolyn. He too flies away, relaxed.
The skies are clear.
Are you fucking kidding me? she asks me with hard, incredulous eyes. I don't quite understand.
Those birds are SICK, she says, and she means it. They are absolutely vile!
Why did they do that to us? I say, my body still shaking. Why us, Gwendolyn? Why did they target us?
The silence between us is extended and uncomfortable.
You don't get it? she says, disgusted now with me too.
No, I don't get it, okay? I admit, my voice getting louder, this feeling like another attack.
Did they come to hunt for fish? No. Did they even steal the fish that we spent our whole late afternoon catching? No. What did they eat, Ed?
Oh my god, I say.
Yeah, Ed. They ate our VOMIT. That's their deal.
That's their deal? I ask this sincerely.
As she turns and swims toward the horizon—the blue underline of a purple sky—I see her spit with revulsion.
---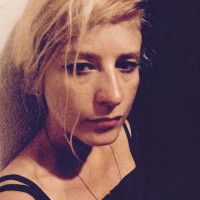 Maggie Wells is the author of Pluto (The Wrath of Dynasty 2011), and co-editor of Emotion Road (Press Body Press 2007). She has been published in Best American Erotic Poems: From 1800 to the Present, The Cadence of Hooves Anthology, Nailed Magazine, Dick Pig Review, and others. She was featured in the Free Lunch mentor series and nominated for a Pushcart Prize in 2008.
Maggie is currently an advice columnist under a pseudonym and has been living in Nashville for the last 16 months. For a good time, you can read her poem, Role Play, here.