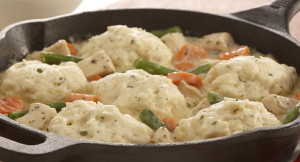 Chicken and Dumplings

is organs boiling on a stove
is a meal for an entire family
for under three dollars

is what we eat for three weeks straight
is the food I would select
if stranded on a desert island

is buttering the palms, crushed saltines,
is rolled with eggs into compact balls;
a meal, lumpy and dense that

is sustenance for losses to wolves and to weather.
Is the ranch, no money coming until
auction, so it will be thickened milk to eat.

It is now for breakfast and lunch, flour and milk,
it is dense with egg. It is white bread toasted
with sugar and cinnamon to fill us up.

Isn't it better to take food stamps until there is more?
Isn't cheese worth the shame, folding out
vouchers to ease their hunger, or

is it hunger, gnawing behind our children's eyes?
Is that the birthright we mortgaged
to this arid plot of land? Always tomorrow.

Is that the day we fake the tithe to the Bishop,
is that the day we feast on the soup
bone roiling in onions, carrots, and fatback,

is that the day we dishonor the name to honor the body?

---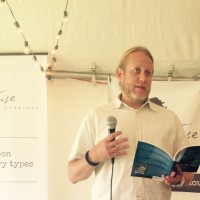 Seth Brady Tucker is a poet and writer originally from Wyoming. His recent work has been published or is forthcoming in Poetry Northwest, Shenandoah, Chattahoochee Review, Southern Humanities Review, Iowa Review, Pleiades, and others. Seth directs the Seaside Writers Conference in Florida, and lives and teaches in Colorado at the Lighthouse Writers' Workshop and at the Colorado School of Mines where he teaches poetry and fiction to engineers and scientists.
Seth's work has won the Eric Hoffer Book Award, the Gival Press Poetry Prize, the Elixir Press Editors Prize, the Bevel Summers Fiction Prize, among many others, and he is the author of the books, Mormon Boy (2012) and We Deserve the Gods We Ask For (2014).