Tale of a City Chicken
Woolworth stores in Chicago
once sold live chicks at Easter time.
I was six when my aunt bought one for me.
I named my chicken Suzie.
She slept in a crate on the enclosed porch
and I'd let her loose in our apartment –
she'd happily trail me around the kitchen,
but always pecked my mother –
White-feathered Suzie grew a droopy red comb
that covered one bright eye;
When crowing began and neighbors complained,
we knew Suzie was a rooster, not a hen.
I came home one day, found Suzie gone,
sent to a farm, my parents said,
where she'd have other chickens to play with.
But I saw her crate by the garbage can,
and that Sunday, we had chicken for dinner.
---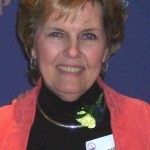 Patricia Williams, professor emerita, University of Wisconsin – Stevens Point, taught art and design for 35 years. Art, design, poetry and creative prose, she feels, are natural partners, their work being the creative examination of life and living. Her poetry is published or forthcoming in online and print journals and anthologies in the U.S. and U.K. including Camel Saloon, Lake City Lights, Poetry Quarterly, Stoneboat, Your Daily Poem, Fox Cry, Red Booth, Third Wednesday, Negative Capability Press Anthology, Midwest Prairie Review among others, and was nominated for a 2014 Best of the Net Award.