In 1504 Columbus told the natives of Jamaica that God would show his displeasure with them for refusing to feed his crew, who were starving, through that night's moon. He knew from his almanac that the evening would bring a lunar eclipse. Afterwards, the terrified natives gave his men everything; Ferdinand, his son, witnessed the exchange.
I.
Anything can become a slur
if you look at it long enough
Eclipse

The doubting ee
the curt clip the sinister s

The last meal we had
powdered herbs in water
boiled mixed into paste

The man who brought the herbs
came in a canoe at night
gliding through the water
like a shark's fin

My father gave the man two glass beads
a red cap bells for his ears
to wear on the journey back

I watched him
until he was out of the ship's light
the red hat a berry to be picked


The men on the ship
have ceased speaking

Keeping a straight spine
They walk the boards
of their hunger nightly

If one is not already merciless
hunger makes it so

The mercilessness feels like grace
because it is inevitable

In Daniel 2:1 Daniel feeds only on water
and vegetables
and so has visions

He interprets the king's dream for the king
empires
a statue with legs of iron
that shatter everything
until just one stone is left

It grows
making the earth into
one unsurmountable mountain

---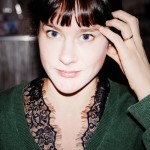 Alison Powell's first collection, On the Desire to Levitate, won the Hollis Summers Poetry Prize and was published by Ohio University Press in 2014. She has received awards from institutions including the Vermont Studio Center, Millay Colony of the Arts, Fine Arts Work Center of Provincetown, and elsewhere; work has appeared in Boston Review, AGNI, Guernica, Black Warrior Review and elsewhere. She is Assistant Professor of Poetry at Oakland University, and lives in southeast Michigan with her husband and son.These poems are from her second collection in progress, which draws on Millerism, Noah's Ark, extinction, Christopher Columbus, climate change, and other apocalyptic matters.