In April a truck carrying hundreds of hives
as freight glanced off a guardrail flipped
and released 14 million bees to the air
It had been traveling at speed
through America's wettest city
to a local blueberry farm
which the honeybees were to pollinate
for pennies on the dollar
Bees have two stomachs
one for eating
one for storage

A single worker bee makes 1/12th
a teaspoon of honey
in his lifetime

When I was a child
I licked manuka honey
off the spoon when sick
I yanked handfuls of honeysuckle
from the neighbor's vine

Bees suffer from disappearing disease
which sounds like a psychiatric matter
as if the hives having come
from ancient Egypt

watched postmodernity collapse into autumn
turned back into their combs
and as through a wardrobe
returned to the pyramids

Bees have undertakers
who carry the dead and dying
away from the hive

When the truck turned
the bees loose they scrambled
trying to find position
to signal the way like a compass
The driver wrapped his arms
over his face
the reporters stung
until there were clusters of bodies
of bees littering the interstate

I would pull the pistil out of the honeysuckle flower
carefully to release
what I had been told was honey
thinking of the neighbor
and her seven exotic birds

A queen is protected all winter
the workers huddle around her
quiver to keep the heat up
they rotate from the outer to inner ring
so no one is left for too long
out in the cold
Her whole life the workers feed her
bowing to release the royal jelly
from the glands in their heads

When faced with a predator
bees do the Wave
flick their wings arch their bodies
sending a ripple across the comb
but transportation
is not predation
is it

The bees swarm into the boxes
we organize the boxes
send the boxes
into the gasoline atmosphere
so they may do their
tremble dances
in the cool mist
of an automatic
sprinkler

---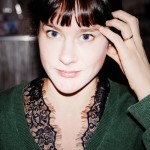 Alison Powell's first collection,
On the Desire to Levitate
, won the Hollis Summers Poetry Prize and was published by Ohio University Press in 2014. She has received awards from institutions including the Vermont Studio Center, Millay Colony of the Arts, Fine Arts Work Center of Provincetown, and elsewhere; work has appeared in
Boston Review
,
AGNI
,
Guernica
,
Black Warrior Review
and elsewhere. She is Assistant Professor of Poetry at Oakland University, and lives in southeast Michigan with her husband and son.
These poems are from her second collection in progress, which draws on Millerism, Noah's Ark, extinction, Christopher Columbus, climate change, and other apocalyptic matters.