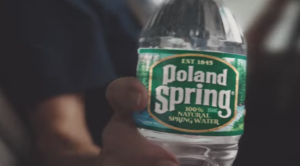 Nestle gets sued for falsely advertising Poland Spring water….
Is your bottle of Poland Spring water really from a spring?

A lawsuit filed in federal court in Connecticut earlier this week alleges it isn't, calling the Nestle-owned brand label that reads "100% Natural Spring Water" a "colossal fraud."

The complaint, which seeks class-action status, claims Poland Spring parent company Nestle Waters North America is actually selling water that doesn't meet the U.S. Food and Drug Administration definition of spring water.

It also alleges water in Poland Spring-labeled bottles isn't "collected from pristine mountain or forest springs as the images on those labels depict." Rather, they contain "ordinary groundwater" collected from wells drilled in "saturated plains or valleys where the water table is within a few feet of the earth's surface."
Sip on at CBS News.