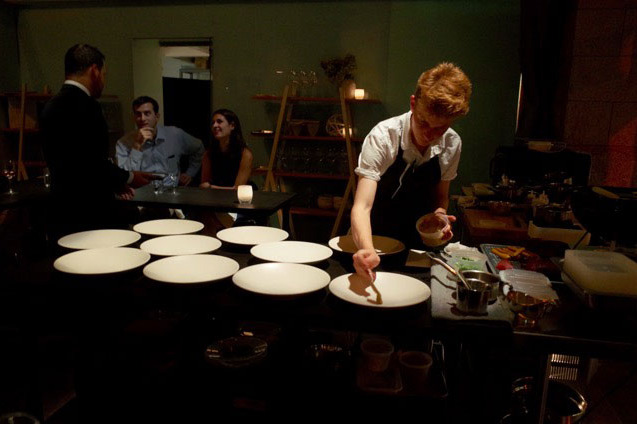 "This seems like a nice place for a pop-up, Dad, but it might need a little more light," says my daughter Jane as we survey the vaulted (and yes, dimly lit) space down on Hudson Street where the wunderkind teenage cook Flynn McGarry has, for the last several weeks, been making his much-anticipated New York debut. McGarry, as you may have heard, is just 16 years old and already has spent time in some of the world's great kitchens (Maaemo in Norway, Denmark's Geranium, Alinea in Chicago, Eleven Madison Park here in New York). The success of his pop-up L.A. supper club, called Eureka, landed him on the cover of The New York Times Magazine last year, and now he's brought his talents, and the Eureka pop-up, to New York. With the help of a business partner who handles the wine program, McGarry preps, cooks, and serves his own 14-course tasting menu, twice a night, for three nights a week. The cost of dinner is $160 per person (plus another $80 if you order the wine pairing), and the 12-seat bar is booked solid for the next month.

Our father-daughter review team managed to wrangle two spots at a recent 9:30 p.m. seating, which Jane's mother pointed out was perilously close to both of our bedtimes. But so what? As members of the same, precocious, food-obsessed generation, Jane and McGarry seemed like a match made in reality-TV heaven. Jane's only a year younger than the teenage chef (he's already passed his high-school equivalency exam), and as the eldest child of a professional eater, she has recently begun to turn her discerning eye to the world of restaurants. On a recent visit to Paris she announced that her favorite restaurant was Daniel Rose's trendy bistro Spring ("These asparagus are spot-on, Dad"), and lately she's accompanied her bilious father on his daily rounds, dutifully consuming bagel breakfasts ("Big is not always better when it comes to bagels"), and several marathon tasting-menu feasts ("This food is very impressive," she whispered at one point, "but where's the 'wow' factor?").
Read the rest on Grub Street.