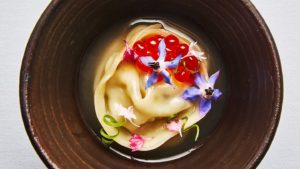 The midwest may surprise you….
I don't own a single piece of Cubs paraphernalia. I don't have Chicago's four-star flag tattooed on my forearm. I don't care if you put ketchup on a hot dog. But there's one thing from my hometown that I will absolutely go to bat for, and here it is: Chicago is clearly America's most exciting city to eat in right now.

As a Chicago native who covered the city's food scene for years as a local restaurant critic, I'm obligated to tell you that my hometown has always been able to hold its own against the best food cities in the country. But I can't remember a time that I've been as psyched to eat there as I've been this year. Where other cities fall into soulless trend cycles, Chicago has a way of generating distinctively personal restaurants. So, SF and L.A., this might hurt a little, but here's all the proof you need that the Midwest is best.
Read on at Bon Appétit.