Everyday
to myself I say I want to bite his shoulder.
I like thinking about it, snow, the sky
either blue or gray and I am eating
a man's living shoulder. Am I so
hungry the shoulder to cry on I would
eat instead? Like meringue, not meaty though
toughened five days a week lifting
weights, calf brain, egg white, tartufo, texture
like that sirloin in Florence when I was
nineteen, consistency of soufflé, chocolate
never equaled, made watching Dracula
when I was in seventh grade. Lay my cheek
against it, but I keep dreaming I want
to bite that shoulder, even wound it.

---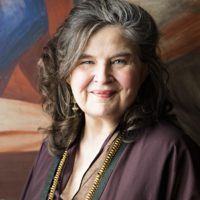 Honor Moore's most recent book is
The Bishop's Daughter
, a memoir, a finalist for the National Book Critics Circle Award and a Los Angeles Times Favorite Book of the Year and her most recent collection of poems, Red Shoes. Her work has appeared in
The New Yorker, The Paris Review, The American Scholar, Salmagundi, The New Republic, Freeman's
and many other journals and anthologies. She has been poet in residence at Wesleyan and the University of Richmond, visiting professor at the Columbia School of the Arts and three times the Visiting Distinguished Writer in the Nonfiction Writing Program at the University of Iowa. She lives and writes in New York where she is on the graduate writing faculty of the New School.
featured image: A screenshot from the trailer for
Dracula
(1958), a Hammer Horror production.