It's not just the absence of war, Scott said, but Hemingway
had the last word, and for decades driving an ambulance in
Europe in World War I was how you made your mark as a man.
Peace in those days meant Paris and a wound and an aperitif.
No sooner do I write those words than I visualize a rocks glass
with a big rock of ice in it and something sweet but not too sweet
like Byrrh or Cynar or Campari if you have a taste for it.
That aperitif is one of the true pleasures of peace. (There are false ones.)
So I go upstairs to see what we've got in my homemade bar
and I decide on two jiggers of ice-cold gin, one jigger cold vermouth,
with an onion and an ice cube to keep it cold, and I make two of them,
one for me, one for Stacey, and I sip my gibson, not too fast,
and this moment is one of the pleasures of peace as I see it,
though nothing beats a summer afternoon, a book, and a stream.
---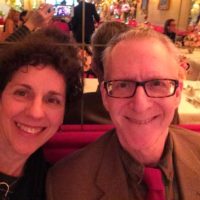 David Lehman has taught in the New School's MFA Writing Program since its inception in 1996. His new book of poetry is "Poems in the Manner Of," coming from Scribner in March 2017.
featured image via via Pixabay/a>.