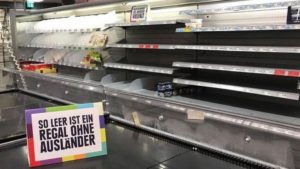 This supermarket is making a stand on immigrants….
A supermarket in Hamburg has removed all foreign products from its shelves to highlight racism.

Food had instead been replaced with signs saying "this shelf is pretty boring without diversity".

It's in response to migrant-related crime increasing in recent months along with general anti-immigrant feeling.

Edeka, one of the largest supermarket chains in Germany, is now going to roll out the initiative to more stores.

A supermarket spokesperson said: "Edeka stands for variety and diversity."
Read on at BBC.