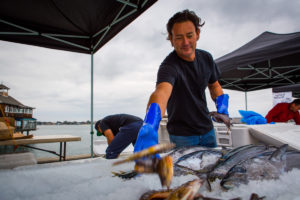 On the changes of a beloved waterfront in San Diego…
Captain Kelly Fukushima is in a good mood, bustling between fellow fishermen and customers eating tuna tacos at his stand. The open-air Dockside Market in San Diego's Tuna Harbor, which required an amendment to state law to open, had nearly 100 customers waiting in line before it opened at 8:00 a.m. on a recent Saturday morning. It got busier as the morning went on.

The bustling market is a welcome sign of life for San Diego's commercial fishing fleet, which has been struggling under four decades of the tightest fishing regulations in the world. The Magnuson-Stevens Act of 1976 enacted gear restrictions, reductions in allowable catch in fleet capacity, and rotating fishing area closures (like letting a fishing ground lie fallow). While the regulations have succeeded in rebuilding California's depleted fisheries, the industry has yet to fully recover.
Read on at Civil Eats.