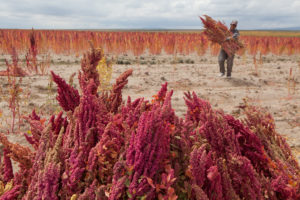 The story behind your quinoa salad….
A staple food in the diet of millions throughout the Andean states, quinoa has 36 percent more protein and 73 percent more fiber than wheat. Its protein content covers all eight essential amino acids and it has high levels of iron, magnesium and zinc, as well as B vitamins riboflavin and folic acid.

According to Food and Agriculture Organization Director-General Jose Graziano da Silva, quinoa could help "fight against hunger and food insecurity".

The UN declared 2013 the International Year of Quinoa. But four years on, Bolivian quinoa has suffered some setbacks.

Prices have fallen dramatically as new competitors, such as Peruvian farmers who, with the aid of synthetic fertilisers, produce two harvests a year instead of the one harvest in Bolivia, where synthetic fertilisers aren't used, enter the market.
Read on at Aljazeera.