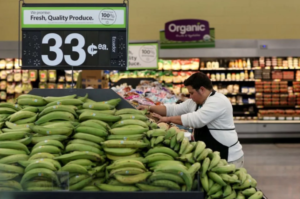 Walmart is amping up its grocery game….
Competition is heating up among U.S. grocery chains, but Americans are increasingly buying their food at Walmart.

The retailer on Thursday said food sales had grown to their highest level in five years, as Walmart expands its grocery business both in stores and online by adding more organic produce. The company is also testing grocery delivery in New York, and has taken aggressive steps to compete with Amazon.com, which is the process of buying Whole Foods Market for $13.7 billion, as well as with European discounters like Aldi and Lidl, which are ramping up their presence in the United States.

"We've seen strong results from the rollout of online grocery, which is now in more than 900 U.S. locations," Doug McMillon, president and chief executive of Walmart, said in a Thursday call with analysts. "We're expanding this service in many of our markets around the world."
Read on at The Washington Post.