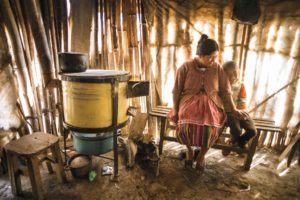 Tackling the health risks of wood burning, open fire stoves….
On Easter Sunday morning, in the small town of San Antonio Aguas Calientes in central Guatemala, Elbia Pérez and her sister, daughters, and 18-month-old grandson are crowded around their kitchen table. On the table, a large pot of tamales, handfuls of spicy meat and corn dough wrapped in plantain leaves, stands waiting to be steamed. The room is filled with talk, laughter, and smoke—gritty, eye-watering smoke that sticks in the throat and provokes deep, scratchy coughs.
The problem isn't that the family lacks a functioning stove. In fact the aluminum-sided kitchen—part of a compound that shelters 45 extended-family members—contains three. But the two-burner gas stove is out of fuel, and the Pérez family can't afford to fill it. Their efficient woodstove, a knee-high concrete cylinder donated by an aid group called StoveTeam International, is too small to support the tamale pot. So, as she does about once a month, Perez has fired up the old wood-burning stove, a crumbling, chimney-less brick ruin whose smoke pours directly into the unventilated kitchen. Everyone notices the smoke, but it's a familiar annoyance—and compared with the daily challenge of affording food and fuel, it's a minor one.
Read on at National Geographic.