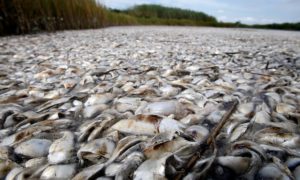 How eating meat impacts the environment…
Every spring, as the snows thaw, water rushes down the Mississippi and Missouri rivers, spreading life, then death into the Gulf of Mexico. The floodwaters are laden with fertilisers washed from fields and factory farms. As spring turns to summer, excessive nutrients first drive a huge bloom of living plankton, then cause death on a gargantuan scale as a dead zone blossoms across the seabed. Most years it grows swiftly to over 5,000 square miles of seabed, killing everything that cannot outrun it.

This year's dead zone has engulfed 8,700 square miles, the biggest ever recorded.

A new report lands much of the blame for the dead zone at the door of modern industrial agriculture. America's addiction to cheap meat, fed on corn and soy in vast indoor factories, comes at a high cost in human health problems and environmental destruction. None of these costs are paid for by the companies that produce the meat and feed, such as Tyson, Cargill and ADM.
Read on at The Guardian.