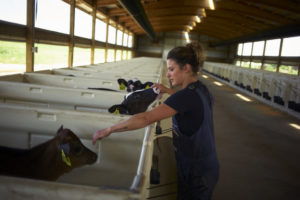 How Trump's immigration policies are harming the dairy industry…
As one of the state's largest industries and the core of its Cheesehead identity, dairy production is heavily dependent on immigrant workers.

Farmers say few if any U.S. citizens apply for these jobs. In addition, while farmers who grow seasonal crops such as blueberries can bring temporary workers into the country under the H-2A visa program, the dairy industry does not qualify because cows must be milked year-round.

Driscoll and some other farmers say the Trump administration's immigration crackdown is making it harder to find workers. In Trump's first 100 days, Immigration and Customs Enforcement made more than 40,000 arrests nationwide, about 35 percent higher than the same period last year. That has affected the Midwest region, including Wisconsin.
Read on at Reveal.