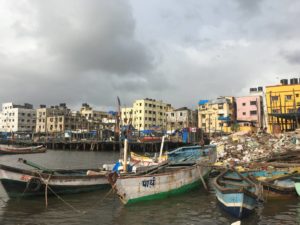 On the new law threatening Indian fishing villages…
At the end of the monsoon rains every year, Mumbai's fishing community perform a traditional pooja ceremony to mark their return to the sea, with offerings of coconuts and flowers, and prayers for safety and bounty.

This week, as they launched their freshly painted boats into the water, there was an added prayer: the preservation of their homes and livelihoods as a new coastal law threatens them.

Changes to India's Coastal Regulation Zone (CRZ) rules this year have lifted the ban on land reclamation for commercial purposes, will allow tourism in ecologically sensitive coastal areas and permit construction of the world's tallest statue on an artificial island near Mumbai.
Read on at Thomson Reuters Foundation News.