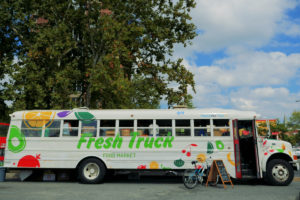 A food truck that brings healthy food to those in need…
Every Friday afternoon at 3:30 p.m., a school bus parks outside the South End Community Health Center in Boston, opens its doors, and invites local residents to come inside and purchase groceries.

Fresh Truck is more than just a mobile supermarket, however; the nonprofit is working to get nutritious foods into the hands of people who lack access. Unlike traditional supermarkets, the shelves of the old bus are stocked with fresh fruits and vegetables and devoid of salt- and sugar-laden processed foods; shoppers can use cash, debit/credit, and EBT state welfare benefit payment cards.
Read on at Civil Eats.