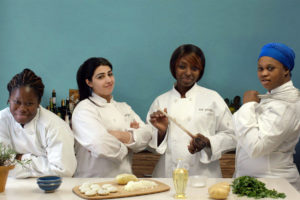 Refugees find careers as chefs in companies like EatOffBeat and Hot Kitchen….
In a kitchen in Queens, New York, a chef named Dhuha is making potato kibbeh—Middle Eastern croquettes made with ground beef—that the women in her family taught her how to shape just so. Dhuha, who grew up in Baghdad, works at Eat OffBeat, a food delivery business that provides home-style meals prepared by refugees resettled in New York City.

Life as an immigrant brings a host of challenges that arise from adapting to a new country, culture, language, diet, and workforce. And it's an increasingly common situation: A 2016 United Nations report found that 1 in every 113 people in the world is now either internally displaced, an asylum-seeker or a refugee. During the fiscal year 2016, 84,994 refugees resettled in the U.S. and 5,028 of them moved to New York State.
Read on at Civil Eats.