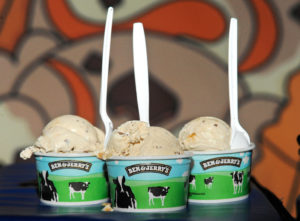 Traces of controversial glyphosate found in Ben & Jerry's ice cream….
A growing number of foods commonly found in kitchens across America have tested positive for glyphosate, the herbicide that is the main ingredient in the popular consumer pesticide Roundup, which is widely used in agriculture. But few brands on that list are as startling as the latest: Ben & Jerry's, the Vermont ice cream company known for its family-friendly image and environmental advocacy.

The Organic Consumers Association announced Tuesday that it found traces of glyphosate in 10 of 11 samples of the company's ice creams — although at levels far below the ceiling set by the Environmental Protection Agency.
Read on at The New York Times.