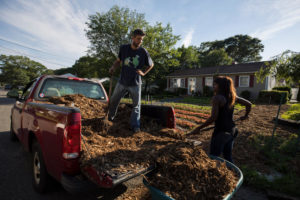 Turning front lawns into farms….
Jim Adams met his wife on a trip to Uganda a decade ago. Rosette Basiima Adams, 35, grew up in Kasese, a town, she said, where "everything we ate, we grew."

"I went to see the gorillas in the Congo," Mr. Adams, 42, recalled recently. But he left his tour group and ended up meeting Rosette, who was working at a hostel where he stayed.

Today, the couple are trying to grow a business cultivating crops on suburban lawns on Long Island. Their business, Lawn Island Farms, is the result of research and a desire to find a way to farm on the island.
Read on at The New York Times.