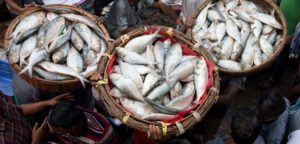 Saving the Hilsa fish in Bangledesh….
Hilsa are a little fish with a big place in the hearts of Bangladeshis. A species of herring, hilsa (Tenualosa ilisha), are auspicious enough to give as temple offerings or wedding gifts, and serve at traditional Bengali New Year's Day breakfasts. In recent years though, overfishing, habitat destruction, and siltation has resulted in a decline in numbers of this long, silver, oily fish. Bangladeshis are concerned, and not just over the economic loss. A new study looks at the emotional, rather than economic, value of hilsa and finds that locals are willing to pay for its protection. It is the first study of its kind for Bangladesh.
Read on at Hakai Magazine.