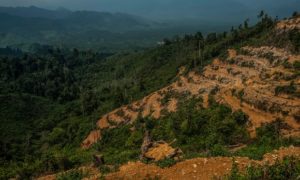 Major food corporations are responsible for major deforestation….
Pepsico, Unilever and Nestlé have been accused of complicity in the destruction of Sumatra's last tract of rainforest shared by elephants, orangutans, rhinos, and tigers together in one ecosystem.

Plantations built on deforested land have allegedly been used to supply palm oil to scores of household brands that also include McDonald's, Mars, Kellogg's and Procter & Gamble, according to a new report.
Read on at The Guardian.