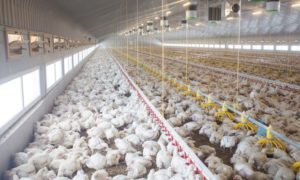 On the increase of mega farms in the UK…
The US has led the world in large-scale farming, pioneering the use of intensive livestock rearing in hog farms, cattle sheds and sheep pens. There are now more than 50,000 facilities in the US classified as concentrated animal feeding operations (CAFOs), with another quarter of a million industrial-scale facilities below that threshold.

Around the world, developing countries in particular were quick to catch up. Intensive farming of livestock offers many advantages over traditional open ranges, not least economies of cost and scale, more efficient healthcare for the herds and flocks, and ultimately cheaper food. According to the UN, globally CAFOs account for 72% of poultry, 42% of egg, and 55% of pork production.
Read on at The Guardian.