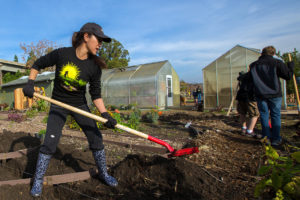 Rethinking the food landscape of San Jose…
San Jose, California is a sprawling city of contradictions. Once a bedroom suburb for San Francisco commuters, in recent years it has exploded to a city of more than a million people. Now San Jose serves as a home to both wealthy tech workers and working-class families sardined into whatever apartments they can find and afford. Its climate was perfect for apricot, cherry, and plum orchards and the canning factories that employed thousands of residents in the first half of the 20th Century, but those have long since been replaced with tech campuses.

With the idea that building up a local food system in San Jose would improve the city's economy, community healthy, livability, and environment, the nonprofit Sustainable Agriculture Education (SAGE) recently hosted a kickoff event for a report that details the state of the San Jose food system and offer solutions to create a thriving local food system.
Read on at Civil Eats.