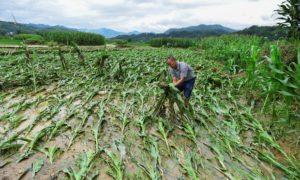 Our global dependency on a few crops could be problematic…
Governments may be seriously underestimating the risks of crop disasters occurring in major farming regions around the world, a study by British researchers has found.

The newly published research, by Met Office scientists, used advanced climate modelling to show that extreme weather events could devastate food production if they occurred in several key areas at the same time. Such an outcome could trigger widespread famine.
Read on at The Guardian.