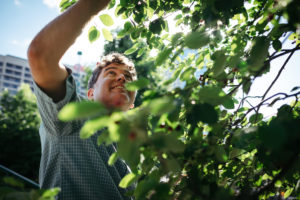 Home-grown food could be nutritious for the whole community…
America's 42 million home and community gardeners grow an estimated 11 billion pounds more food than they can use. Meanwhile, 87 percent of Americans are not eating enough fruits and vegetables.

The good news is the movement of people who harvest that excess home-grown food, known as urban gleaning, has matured over the past decade or so from a weekend hobby for locavores to a growing sector of the food economy. In recent years, dozens of private and public groups around the U.S. have gotten organized around getting this extra food onto people's tables.
Read on at Civil Eats